Yamaha Generator Rentals
Need some power for your camping trip this weekend?  No problem.  Check out our new fuel efficient and lightweight Yamaha generator's sure to power up your campsite or other recreation needs.
Light Weight, Quiet and Powerful
Powerful, portable and retro-cool, delivering maximum output with minimum effort. It weighs only 44 lbs. and features an extra-large handle for easy transport to almost anywhere. It's whisper quiet and meets the strictest environmental standards - simply the greenest way to power up.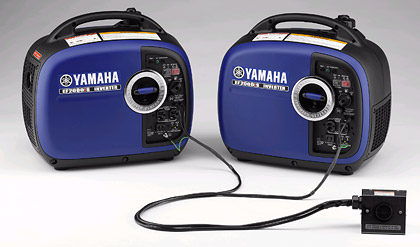 This model is outfitted with a parallel-use function as standard equipment to enable the use of two generators to accommodate a wider range of uses (widened range of output needs). 
You can connect two units of EF2000iS by using the optional parallel connection kit.
Professional users operating a variety of precision devices sometimes need a little more output. 
With the EF2000iS you can connect two units to get the added output for a variety work uses. 
Yamaha EF2000iS Generator Rental

$20 - 1 day rental

$10 - Link cable
Key Features
The EF2000iS is powerful, portable and retro-modern and delivers maximum output with minimum effort. It weighs a mere 44 compact pounds, making it easy to transport.
The EF2000iS is fitted with Yamaha's most technologically sophisticated muffler. It's so quiet that you can have a conversation near one and may not realize it is running. (51.5 dBA to 61 dBA – ¼ rated to rated load).
It is very compact (2.2 cu.ft.) which makes it easy to store and transport.
If you need extra juice, the EF2000iS has you covered—a convenient parallel function lets you connect two generators to deliver up to 30 maximum amps.
Meets even strict California Air Resources Board and Environmental Protection Agency standards for low emissions.
Features
Light weight — Easy transport.
Super-quiet muffler with USFS-approved spark arrestor — Only 51.5 dBA at 1/4 load and eliminates errant sparks.
Compact — 2.2 cu.ft. size is easy to store and transport.
TwinTech™ capability — Hook up two EF2000iS's for 3600 watts of maximum power (requires accessory cable available at extra cost).
OHV engine with cast iron cylinder liner — Efficient, reliable, powerful providing long life and excellent heat dissipation.
Smart Throttle varies engine speed based on load — Improves fuel economy and reduces noise.
Inverter system with Pulse Width Modulation (PWM) control — Produces a pure sine wave to run products with built-in microcomputers or microcomputer-controlled electric tools.
Gasoline petcock lets you shut off the gas to run the carb dry for storage — Prevents stale gas problems.
Oil Watch Warning System — Prevents engine damage and provides added peace of mind.
Fuel gauge — Ability to gauge fuel level without opening cap.
Auto warm-up — Increases engine speed during cold starts to handle high power demand appliances right away.
Auto-decompression system — Reduces compression for easier starting.
Comfortable grip handle — Easy portability and storage.
Electrical overload breaker — Prevents generator damage in case of overload.
Centralized controls — Easy access to controls.
DC Outlet — 8A 12V outlet for charging batteries (cables included).
Rubber vibration isolation feet — Absorbing feet for increased smooth operation and noise reduction.
Easily detachable side panels — For easier serviceability.
Noise Block sound reduction system — Very quiet.
EPA & CARB Emission Engine Life Rating — Yamaha generators have the longest emission engine life ratings issued by the environmental Protection Agency and the California Air Resources Board.
50 state legal — Meets emmision regulations, including CARB.
Specifications
Type: Brushless Inverter
Maximum AC Output: 2000 watts
Rated AC Output: 1600 watts
Rated / Maximum AC Current: 13.3 / 16.7 amps @ 120V
Engine: OHV, Forced Air-Cooled, Four-Stroke, Single Cylinder
Displacement: 79cc
Overall Length: 19.3 in
Overall Width: 11.0 in
Overall Height: 17.9 in
Dry Weight: 44.1 lb
Fuel Tank Capacity: 1.1 gallons
Continuous Operation at 1/4 Rated Load: 10.5 hrs
Noise Level: 51.5 - 61 dBA